Tinakilly Country House Hotel is a stunning Victorian country house by the sea. It is set on 14 acres of mature landscaped gardens and simply oozes charm and sophistication. Just 40 minutes from Dublin, Tinakilly Country House is a perfect mix of victorian charm and modern comfort. The wedding team at Tinakilly will do everything to make sure you have the wedding of your dreams.
Located between Ashford and Wicklow town, the entrance to Tinakilly Country House is an avenue lined with beautiful oak trees. Once on the grounds you will have stunning views of mountains, lakes and the sea. Surrounded by acres of beautifully maintained, sprawling gardens you will be surrounded by tranquility.
As a Dublin Wedding Photographer, I have shot several weddings at Tinakilly Country House over the years and it's always a venue I eagerly look forward to returning to. There are so many beautiful locations for ceremonies and photographs, everything you need is on-site.
In the guide below I'll be aiming to provide as much information as I can from my experience of shooting at Tinakilly Country House from a photographer's viewpoint while also curating some information provided by the venue themselves in their online brochure.
Tinakilly Country House Wedding Slideshow
Press play above for a selection (over 100) of my favourite images taken at Tinakilly Country House. These are all taken from the fabulous weddings of Lorraine & Ruairi and Abby & Hugo.
Location
Rathnew, Co. Wicklow.
Why I love taking Wedding photographs at Tinakilly Country House
What not to love? Tinakilly Country House is a wedding photographer's dream. Incredibly gorgeous grounds, ceremony locations both indoor and outdoor that wow. From getting ready to final dances, you won't have to think about leaving the grounds for photography or any other reasons on your wedding day. I hope the photos in the slideshow above illustrate the variety possible but as I've gone through these photos all I can focus on is how joyful and relaxed everyone looks. And that is why I love taking photos at Tinakilly Country House!
Available Spaces
Front Hall
Perfect for receiving your guests, Tinakilly's front hall is very impressive with it's double high ceiling, ornate marble fireplace and baby grand piano. The majestic staircase leads up to the comfortable suites and can make for quite an entrance.
The Great Eastern Pavillion
A truly impressive space, the Great Eastern Pavillion can accommodate up to 300 guests! This makes it perfect for all large events and weddings. The space is decorated with wood panelled walls, a lounge room and twinkly fairy lights. All of this contrasts wonderfully with the stunning views from the large windows looking out to the woodlands beyond.
Very importantly, there is an on-site bar! The gorgeous lounge area is perfect for chilling out, away from the main crowds. Furnished with comfy couches and games, it's a great location to put a photo-booth, guest book and your cake.
It is an incredible location for an indoor ceremony also!
The Halpin Suite
My wording: The Halpin Suite is located towards the east of the house. It offers breathtaking Victorian architecture alongside a stunning view of the sea. This space really suits drink receptions, civil ceremonies up to 100 guests and private dining. Large bay windows offer wonderful natural light.
The Brunel Suite
Another option for civil ceremonies up to 160, the Brunel Suite is a spacious suite with large windows offering a view of the gardens. The Brunel Suite will also be where you enjoy your breakfast the morning after your celebrations!
The Asgard Suite
The Asgard Suite, in the west wing, can entertain up to 35 guests and was the original Drawing Room of the house.
The Mizen Room
This room is particularly suited to hosting small cocktail parties and private dinners and can accommodate up to 20 guests.
Guest Suites
Having not been lucky enough to have stayed over yet, I'll leave it to team at Tinakilly to wow you about the guest suites:
"Tinakilly has 52 luxurious and spacious bedrooms in true Victorian period style consisting of 15 Deluxe Bedrooms, 10 Four Poster Suites, 22 Junior Suites, 4 Captain Suites and a Bridal Suite. The elegant bedrooms reflect the Victorian period and also provide all modern comforts. The Captain Suites at Tinakilly House, are our most spacious rooms featuring antique furniture, king size beds and living room area with a cosy fireplace in selected suites. Many of the Captain Suites enjoy incredible views over the gardens to the Irish Sea and beyond. The Junior Suites are very spacious rooms with picturesque views over the Irish Sea or our mature landscaped gardens. Many have four poster or half tester beds, while others feature queen size and single beds allowing for three guests or ideal for a small family. The Deluxe Bedrooms are all beautifully appointed with antique furniture. They are large comfortable bedrooms featuring queen size or twin beds and are decorated in keeping with the Victorian style of the hotel."
Complimentary Extras
Wedding Coordinator
Red carpet arrival
Floral Arrangements on each table picked from gardens
Prosecco for couple on arrival
Personalised menus and table plans
Bar extension
Sound system and microphones
Complimentary use of honeymoon suite
Discounted room rates for guests
Outdoor wedding ceremony at Tinakilly Country House
The majestic grounds of Tinakilly are fully setup for outdoor ceremonies. Tinakilly House is set on 14 acres of grounds. The Rose Garden is an incredibly tranquil location for an outdoor wedding ceremony. It has a fountain and a boxed rose garden.
Where to take family photos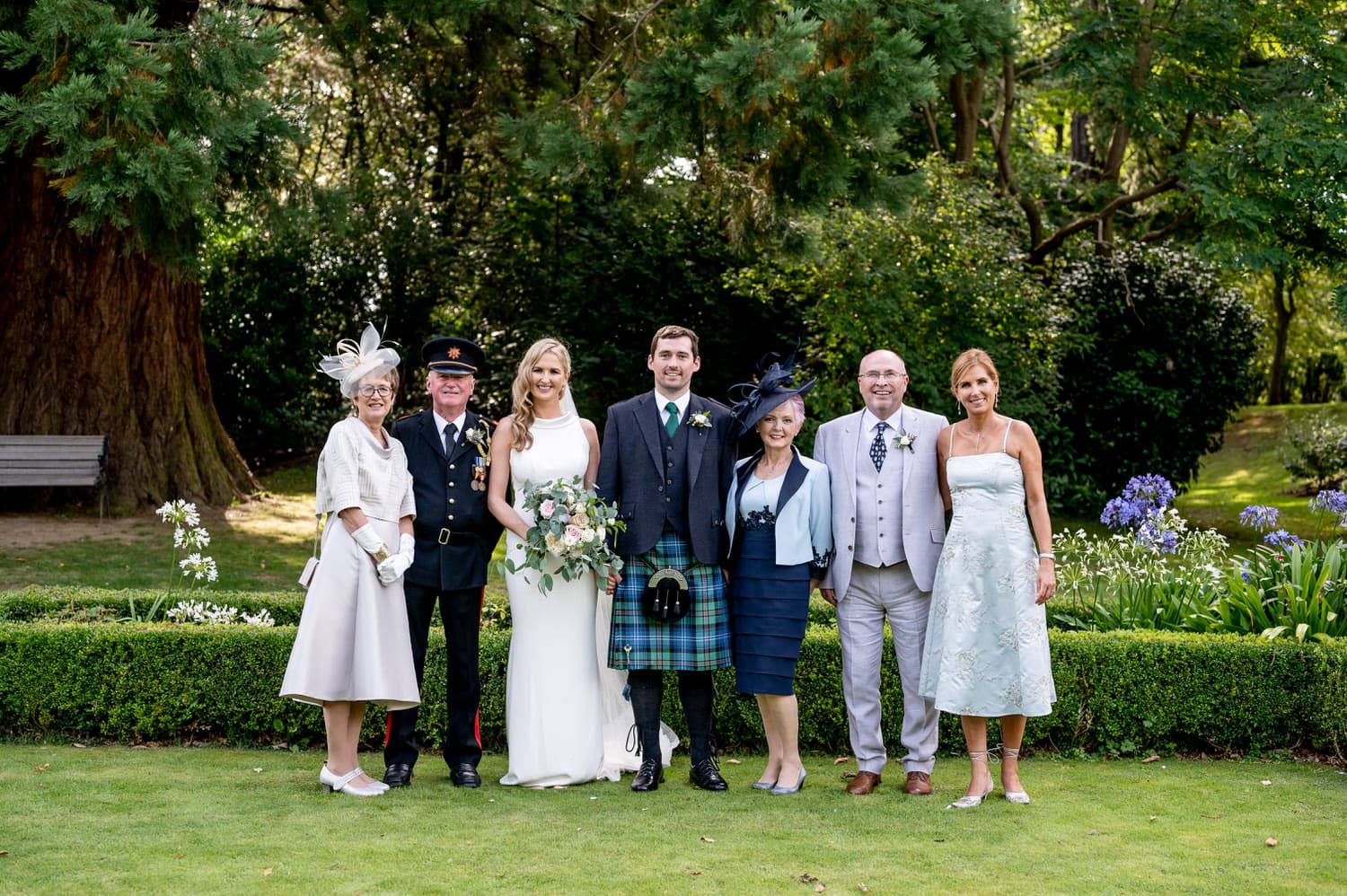 There are so many options and locations for family photos and/or bridal party photos at Tinakilly House. I would always use my best judgement on each wedding depending the weather conditions. On a very sunny day I would be looking to backlight the groups with the sun and pick a simple backdrop that reflects the venue well. The steps in front of the house are a great location as it's easy to place everyone and it offers a view of the house in the backdrop. However this isn't always an option as if it were a very sunny day with no shade the light would be too severe and it would mean everyone would end up squinting and it's always best to avoid this if possible!
Indoors, there are wonderful options available such as the staircase of the Front Hall.
How much does it cost to get married at Tinakilly Country House?
Prices start at €105 per person for mid-week weddings. There is a setup cost of €350 for civil ceremonies. For a full breakdown of wedding costs at Tinakilly House, please contact the team for a full brochure.
How to book your wedding at Tinakilly Country House
Simply contact the wonderful wedding team at Tinakilly Country House and they will take it from there!
Email: [email protected]
Phone: +353(0)40469274
Already booked Tinakilly?
Excellent! So now you have to book your photographer. I'd love to hear from you.
Still looking for Wedding Venues near Dublin?
I have written a guide, that includes Tinakilly, of my favourite wedding venues near Dublin, check it out! Or if you're considering a Dublin City wedding, I have a guide for that too!